Our 2022 charter
We are offering a Dinner B&B rate, plus the special two-night walking break to include a package lunch and light afternoon tea. Note, if want to stay more than one night, then please do not use online booking, but phone us, 01490 440264.
The whole ethos and culture at Tyddyn Llan are based on wrap-around hospitality. So, we've had to retrain our teams on how to take extra special care from a distance and how to be 'stand-offish' with a smile.
We've re-thought the whole guest journey and yes, we've had to embrace some dreaded technology to reduce touch points. We've had to add a few too many signs, rules, and notices for our liking, and lots of behind-the-scenes cleaning regimes. But we've kept a sense of fun through it all, keeping it real and holding on to the essential feel that is Tyddyn Llan.
Don't expect full PPE in the hotel. However, we're confident you will find a sensible, user-ready, scrupulously clean approach that will keep everyone safe, happy and relaxed.
Hospitality is ultimately about the warmth of human connection and interaction. But things are going to look a little different and become the new normal for a while. Although we may appear 'cool' with the social distancing measures in place, our welcome is as 'warm' as ever!
We want to reassure our guests, team members and suppliers that we have taken every measure possible to keep everyone safe, but also want to ensure we don't lose the essence of what we love to do every day.
Our team will be happy to answer any questions but below we offer some useful information…
What are the new rules about booking and dining?
You can book a table for up to four who may come from different households. Larger groups may also reserve a table, BUT only if all the diners are from a single household. There is no stated specific upper limit, but we ask for sensibility.
Prior to dining, we will need to have received diners' contact details for purposes of 'track and trace'.
Face coverings must be worn by diners other than when seated to eat or drink.
What if the situation changes again or I need to cancel my stay at short notice?
We recognise that it's very hard for anyone to make firm commitments for anything at the moment but we will give you our commitment to be understanding in all scenarios connected to Covid-19.
What new cleaning routines has the Hotel introduced since Covid-19?
We've always had a rigorous cleaning and hygiene routine. However, our fabulous housekeeping team are stepping it up a notch and you'll see continuous cleaning around 'touch points'- door knobs, handles, in the loos. etc. in the main areas of the hotel.
We've implemented a 'deep cleaning' process for bedrooms using the recommended hospital-grade cleaning materials.  Once a room is fully 'guest ready' it will have a cleaning seal of approval attached to the door giving reassurance of its squeaky cleanliness.
We've all become more familiar with regular hand washing etc. Our teams both front and back of house are all adhering to this, before, during and after their shifts. And to complement this we'll have hand sanitiser available around the hotel for both team and guests to use.
How will you ensure social distancing in the restaurants and around the hotel?
The guest experience will look a little different but we hope we've made it simple and easy to follow.
Firstly, we politely ask you to use one of the hand sanitisers at the entrance to the hotel prior to entering or indeed touching a door handle. We've limited our guest capacities and restaurant spaces and introduced one-way flows to the first floor and where possible around the hotel to ensure a more relaxed approach to social distancing.
We don't want to appear stand-offish… but we will back away and maintain the 2m social distancing rule… even though we may wish to give you a welcome hug when you arrive!
Check in – we'll maintain social distancing throughout – one of our team will meet you and take you straight to your room.
In room – we won't make a fuss, just let you settle in – we're always at the end of the phone if you need anything.
Lounges – the lounges will be open from 2.30 to 5.30pm for drinks and afternoon teas and coffees, also you can enjoy these on our terrace and patio where we have nine tables for when the sun shines. The lounges will be open for after dinner drinks and coffees and teas, but not for pre-drinks and canapés. These will be served at your table to maintain social distancing.
Dinner – our dinner service time will start at 6.30pm so that we can stagger all the bookings every 15 minutes, to ensure we can space guests in accordance with social distancing. Residents will need to book, and please be understanding if your preferred time is not available. We will ask you to go straight to your table at your allocated time where we will serve canapes and any drinks you wish to order. The lounges will be closed off to maintain social distancing but will be open later for coffee and after dinner drinks. We will have disposable wine list of our house selection to choose from in the restaurant, but if you fancy something more special, we will ask you to look at our comprehensive list on line and pre-order from your room. We will also ask you to pour your own wine and water too but be on hand if you need anything!
Breakfast – breakfast will be a little different as we are not allowed to offer a buffet service, breakfast will be served from 8.30 until 10am last orders. We can also offer a light breakfast served in your room which has to be ordered the night before.
How do I know the team looking after me are not ill?
We are nothing without our wonderful team and their well-being is our top priority, therefore, we have implemented necessary health checks prior to looking after guests each day – from kitchen porter, to reception, to back of house teams.
This includes temperature checks and regular 'wellbeing' chats to make sure everyone is happy and healthy to come to work.  No team member with symptoms will be expected to work.  Face masks will also be used where necessary to keep both guests and team members safe and comfortable.

We are close to Bala Lake and Llangollen, 35 miles from Chester, just under one hour. 1½ hours from central Manchester and Liverpool and their airports.  Nearest train station is Wrexham or Chester.
There is a local bus service which is the X94 route from Wrexham to Barmouth, but it takes a while. Taxis can be arranged with good notice.  London can be done within 3½ hours if you take the M6 toll road and the traffic is kind to you.

2020 Cooking score: 6
To a converted shooter's lodge in the rolling tranquillity of the Dee Valley is where Bryan and Susan Webb lit out when they left London a generation ago, and the roots they have put down here are deep and extensive. In an atmosphere of comforting refinement, with swagged curtains, oak furniture and windows all around a dining room in cornflower blue, the heart of the operation is thoroughbred Welsh produce.
Tasting menu options of six or eight courses supplement a broadly based carte which might open with Welsh black bresaola with rocket and Parmesan, or a grill half lobster doused in a spicy butter of ginger, lime and coriander. Mains might look to local lamb, the rib and breast, with a light stew of artichokes, broad beans, peas and mint.
Everything is defined by precision and clarity, with no overly forceful statements, nowhere more typically than in sea bass with laverbread beurre blanc and Jersey Royals. Desserts run the classical rule over prune and almond tart, or poach a pear in red wine and match it with Stilton ice cream and candied walnuts (a sweet spin on a classic salad) and the cheeses themselves are top Neal's Yard merchandise.
A classy wine list opens with a selection by the glass or half-litre carafe, from £7.50 and £19 respectively.

2020 (2019 Editor's Choice)

'Not quite the back of beyond', but this restaurant-with-rooms 'in a very pleasant. quiet, rurual location' is well worth the trek, according to trusted Guide readers. 'Food is the main event' at Susan and Bryan Webb's Michelin-starred retreat, 'and the menu makes you want to stay longer to try more of his cooking'. Backed by 'spot-on' service from 'professional,  friendly' staff, the chef marries crab and langoustine with avocado salsa, calves' sweetbreads with bubble and squeak, panna cotta with blood orange and grappa, taking advantage or seasonal Welsh produce.
Away from the epicurean delights, the 'sympathetically extended' Georgian property has 'tastefully decorated' guest rooms. 'There is plenty of storage, two armchairs, a very comfortable bed. Our bathroom had great towels, a walk-in shower and free standing bath, but no shaving mirror or soap dish in the shower. Minor irritations.'
Overseeing everything is Susan Webb, who is 'very much in evidence', ensuring that events run like clockwork. Breakfast brings 'good coffee', several 'freshly cooked' options. Perhaps, mused one guest, the excellent bread served at dinner could be used for morning toast.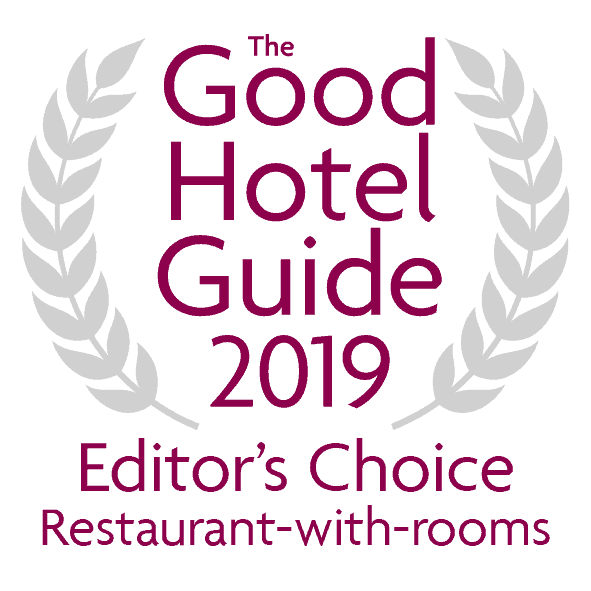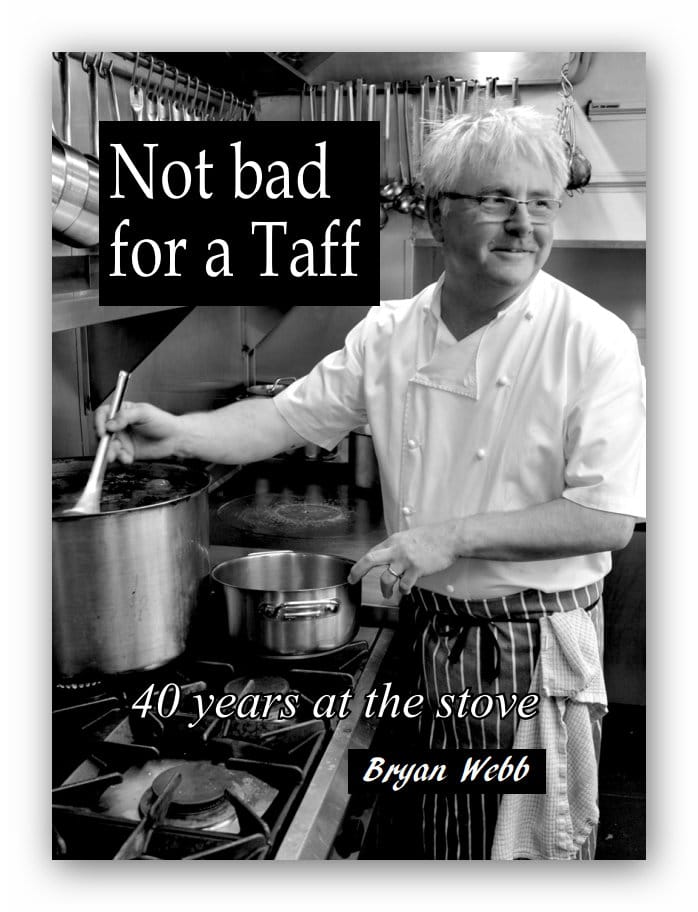 BUY BRYAN WEBB'S BOOK
Bryan Webb has spent 40 years at the stove. 'Not Bad For A Taff' tells his remarkable story. From peeling potatoes, picking spinach and washing up at The Crown, at Whitebrook, to creating his Michelin-starred Tyddyn Llan, with his beloved wife, Susan, he has enjoyed a remarkable career.
'Not Bad For A Taff' celebrates Bryan's ruby anniversary in 2016. As his friend, the multi-award-winning Shaun Hill, from The Walnut Tree, at Abergavenny, says…
"Bryan Webb has been at the top of his game as a chef and restaurateur for decades. It's amazing that he has managed to avoid becoming a celebrity cook and TV star."
'Not Bad For A Taff' is part autobiography, part rich collection of recipes. Bryan shares stories from his 40 years at the stove before sharing recipes from the 1970s to the present day. There are numerous classics, signature dishes and contemporary reinventions that showcase the best of seasonal ingredients.
Sumptuously photographed and featuring dishes that will excite both the home cook and the professional chef, 'Not Bad For A Taff' is a fitting tribute to one of the titans of Welsh gastronomy.
The book was published at £25. But you can order copies from us, with FREE delivery for just £20.00. If you would like the book as a gift, we're happy to send direct to the recipient, with a message from you. Bryan is happy to sign and dedicate books for you.
From the book…
One of favourite plums is the damson, a small delicious sharp wild plum which makes a great soup to serve as dessert. Damsons are not that easy to buy but the Victoria Plum, are plentiful in the shops during their season. There are many types of plums ranging from the English greengage through to the tiny yellow Mirabelles that are popular in France, where they are used in tarts, preserves and for making eau-de-vie. Prunes are made from plums that will not ferment if dried while still containing their pits. The best prunes come from Agen, or the district around known as the Agenais in France. As this is Armagnac country too, they are often put together in a most felicitous way.

When buying plums avoid bruised plums or damaged skins, tough skins can be peeled away easily from ripe fruit: for firm fruit, pour on boiling water as if they were tomatoes. Plums also make great jams and chutneys, one that I like to prepare is this recipe from a classic book Four Seasons by Margaret Costa (still available).

Halve two kilo of plums and cook them slowly in a covered pan until soft, remove the stones.
Peel four onions and core about 700g of cooking apples, chop and put in a large saucepan with the plums.
Add 1.5 litres of good red wine vinegar and a kilo of Demerara sugar, 500g of raisins a tablespoon of salt, a small knob of finely grated ginger and a few cloves.
Simmer until thick. (If you like a kick to your chutney add a pinch of crushed dried chilli.)

Plum soup with Cinnamon Ice Cream

One kilo of plums
20cl of cheap red wine
150g sugar
One cinnamon stick
250g blackberries

For the ice cream

One pint of milk
One pint of double cream
420g of sugar
12 egg yolks
4 crushed cinnamon sticks
Phone us, 01490 440264, or contact us via info@tyddynllan.co.uk if you'd like a copy of the book.

A wedding is a very personal and joyous occasion and a wonderful celebration of your new future, this event needs to be arranged with great care and attention to detail.
Who better to look after you than Tyddyn Llan? Especially if you are looking for really good food and wines.
We offer superior meeting facilities with all the usual services. The £180 24-hour rate offers accommodation, dinner, cooked breakfast, morning coffee, two-course lunch, afternoon tea and hire of a meeting room.
Or our £45 Day Delegate Rate includes morning coffee, two-course lunch, afternoon tea and hire of meeting room. Contact us for more info. (Prices per delegate plus VAT).



Bryan and Susan Webb,
Tyddyn Llan,
Llandrillo, nr. Corwen, Denbighshire,
North Wales LL21 0ST. Tell us your dining or room queries, or whatever. Use the form, phone or email.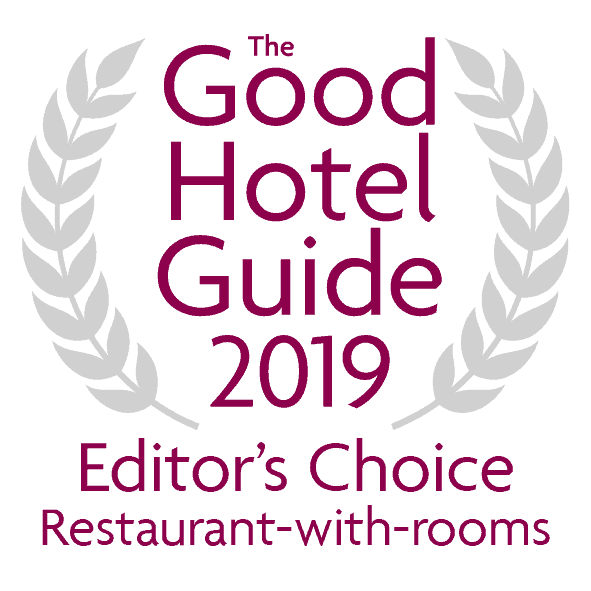 Aware of EU cookie legislation, note we use cookies for social media, site analytics, etc. Nothing devious! But if you need more info, click the link above for the details.