We are close to Bala Lake and Llangollen, 35 miles from Chester, just under one hour. 1½ hours from central Manchester and Liverpool and their airports.  Nearest train station is Wrexham or Chester.
There is a local bus service which is the X94 route from Wrexham to Barmouth, but it takes a while. Taxis can be arranged with good notice.  London can be done within 3½ hours if you take the M6 toll road and the traffic is kind to you.

2017 Cooking score: 6
A handsome grey-stone building in lush countryside, this was once the Duke of Westminter's shooting lodge, but has been in Bryan and Susan Webb's capable hands since 2002.
It's a plush, timeless country house – a series of lounges, all traditionally styled with deep sofas and armchairs, with a dining room whose shades of green, high ceilings and many windows conjure the spirit of a Victorian garden room. Bryan Webb's cooking teams classical techniques with patriotic Welsh flourishes – pan-fried hake with a laverbread butter sauce, for example – and he knows when to keep things simple, relying on beautiful ingredients, pinpoint cooking and on-point flavour combinations to carry the dish.
While it's true that some dishes, such as a vivid asparagus soup, have almost Zen-like simplicity, others – duck breast, duck faggot, confit potato, cider and apple sauce and creamed celeriac, for instance – reveal a deft hand with multiple elements, and this keen sense of balance carries through to desserts such as 'rich, creamy and not too sweet' cherry soup with cinnamon ice cream followed by 'delectable' petits fours.
Service is 'slick but not stiff' and the wine list provides helpful notes on everything from classics to less predictable finds. There's plenty by the glass or carafe, and start at £24.

2017

Meadows, mountains and Michelin-starred meals attract visitors to Susan and Bryan Webb's 'lovely', rural restaurant-with-rooms. The mellow-stone Georgian gentry house has a homey elegance, with open fires, armchairs, a peaceful decor. The hostess's 'vibrant personality lifts the whole place'; 'service is relaxed and excellent'.
Pretty, 'comfortable' bedrooms have a traditional country charm – find tea and coffee facilities, home-baked biscuits, robes and slippers. Each room has its own character: one has an antique four-poster bed, a sitting area, garden views; another has French doors opening on to a private patio. In the evening, sample 'substantial' canapés before tasting Bryan Webb's 'fabulous' daily-changing menus, including, perhaps, 'beautifully tender grouse'; 'a generous portion of stuffed rabbit leg'.
'The only downside is that by pudding time we were a wee bit full.' Young gastronomes are welcomed: ask for smaller portions off the regular menu, or a sensible children's selection. Come morning, a notable breakfast is fuel for the many walks around.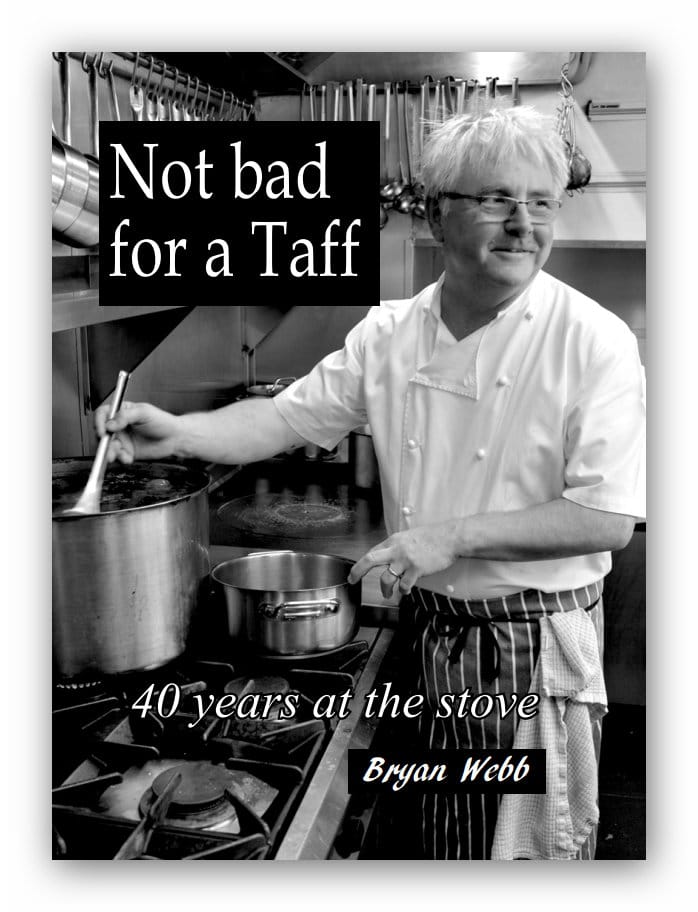 BUY BRYAN WEBB'S LATEST BOOK
Bryan Webb has spent 40 years at the stove. 'Not Bad For A Taff' tells his remarkable story. From peeling potatoes, picking spinach and washing up at The Crown, at Whitebrook, to creating his Michelin-starred Tyddyn Llan, with his beloved wife, Susan, he has enjoyed a remarkable career.
'Not Bad For A Taff' celebrates Bryan's ruby anniversary in 2016. As his friend, the multi-award-winning Shaun Hill, from The Walnut Tree, at Abergavenny, says: "Bryan Webb has been at the top of his game as a chef and restaurateur for decades. It's amazing that he has managed to avoid becoming a celebrity cook and TV star."
'Not Bad For A Taff' is part autobiography, part rich collection of recipes. Bryan shares stories from his 40 years at the stove before sharing recipes from the 1970s to the present day. There are numerous classics, signature dishes and contemporary reinventions that showcase the best of seasonal ingredients.
Sumptuously photographed and featuring dishes that will excite both the home cook and the professional chef, 'Not Bad For A Taff' is a fitting tribute to one of the titans of Welsh gastronomy.
The book is published at £25. You can order copies from us, with FREE delivery. If you would like the book as a gift, we're happy to send direct to the recipient, with a message from you. Bryan is happy to sign and dedicate books for you.
Phone us, 01490 440264, or contact us via mail@tyddynllan.co.uk if you'd like one of the first copies.

A wedding is a very personal and joyous occasion and a wonderful celebration of your new future, this event needs to be arranged with great care and attention to detail.
Who better to look after you than Tyddyn Llan? Especially if you are looking for really good food and wines.
We offer superior meeting facilities with all the usual services. The £170 24-hour rate offers accommodation, dinner, cooked breakfast, morning coffee, two-course lunch, afternoon tea and hire of meeting room.
Or our £45 Day Delegate Rate includes morning coffee, two-course lunch, afternoon tea and hire of meeting room. Contact us for more info. (Prices per delegate plus VAT).



Bryan and Susan Webb,
Tyddyn Llan,
Llandrillo, nr. Corwen, Denbighshire,
North Wales LL21 0ST.
Tell us your dining or room queries, or whatever. Use the form, phone or email.
Aware of EU cookie legislation, note we use cookies for social media, site analytics, etc. Nothing devious! But if you need more info, click the link above for the details.